---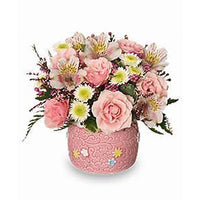 PLEASE NOTE: due to seasonal availability, it may be necessary to vary certain stems that are shown. Fleur de Lynn florists may substitute flowers for one that is similar style, quality and value. Where items include a basket or container, it may not always be possible to inclue the exact item. Should this be the case then we will replace with a suitable alternative.
Delicate pink arrangement
A lovely pink arrangement in a container.
This item is available in 2 sizes, please note the larger size container is the same size but with a larger flower arrangement.